Surface Water Coalition (SWC) and Idaho Groundwater Appropriators Dispute and Negotiations
Idaho Groundwater Appropriators Meeting
We had an important coalition meeting to discuss the Groundwater Pumping Curtailment Order by the (IDWR) on May 4, 2023 at the Idaho Falls City Council Chambers.
Drought Resiliency: Beneficial Use and Conservation
We had a Special Water Forum on December 8, at the Water Front Event Center, at Snake River Landing in Idaho Falls. This major event, titled "Drought Resiliency: Beneficial Use and Conservation" featured speakers from both sides of the SWC/IGWA issue.
Eastern Idaho Water Rights Coalition Members: Governor Little's first Water Summit was held in the State Capitol yesterday. It was very well attended by legislators, city leaders, agricultural organizations, and leaders in the water industry. Issues from all across the state were addressed. This article from the Capital Press gives a brief summary and comments…
Read More
2018 Eastern Idaho Water Supply Alternatives Symposium
Speeches and Reports
Channel 3 Reporter Comes to EIWRC Executive Board Meeting
A Channel 3 reporter came to the February 4th Executive Board meeting to learn about Recharge in Eastern Idaho. Jeff Raybould represented EIWRC and explained the purpose of recharging the aquifer. The report was seen the next day, February 5th, on Channel 3 News, Channel 8 News, and KID Newsradio 590.
All Coalition Members are welcome to attend any scheduled meeting.  We generally have noteworthy guest speakers from Idaho's water community at board meetings and the annual meeting.  Our semi-annual board meetings are held each June and December. The Executive Committee meetings are usually held the first Thursday of every month. Please contact Keith Esplin, if you have any questions.
Executive Committee Meetings rotate quarterly at different Eastern Idaho locations.
Board Meetings locations are TBA
Annual Membership Meeting location TBA
The Legislative Forum location is TBA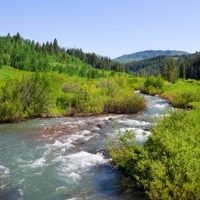 The Eastern Idaho Water Rights Coalition was formed and registered in 2007 in the State of Idaho as non-profit, tax-exempt corporation. A similar designation under Section 501©(3) of the IRS code is pending. A letter verifying the tax-exempt status of the EIWRC can be obtained by contacting us at: Eastern Idaho Water Rights Coalition, c/o Keith Esplin, 593 East 5th South, Rexburg, ID 83440. Financial summary information for the Eastern Idaho Water Rights Coalition is contained in its annual report.